Course: Shamanism, Ritual and Traditional Uses of Sacred Plants
August 16 @ 10:00 am

-

November 29 @ 12:00 pm
Learn about the use of sacred plants through historical, cultural, indigenous, 'traditional' and contemporary lenses
*This course will take place every Tuesday from August 16th to November 29th, 10am-12pm PST/1pm-3pm EST. The purchase of your ticket includes access to all nine of the classes in this course.*
This course will be composed of a series of independent lectures taught by the Chacruna Institute's team and affiliates. It will lay out the foundation of the use of sacred plants through historical, cultural, indigenous, 'traditional' and contemporary lenses. We will explore topics such as shamanism in Amazonia, peyote use among the Wixárika, psilocybin use among the Mazatec, iboga in Africa, and many other cultural practices amongst other groups. We will discuss and analyze critical social issues such as globalization, tourism, cultural appropriation, commodification, patents, reciprocity, conservation, legality, ethics, sexual abuse, practitioner's training and more. The course will create bridges between the worlds of ceremonies and psychedelic therapies. Students will learn how to incorporate this knowledge into their professional practices – either clinical or social science research, work clients or ceremonial circles – as well as their personal lives. Through multiple perspectives and the rich histories and cultures of psychedelic plant medicines, students will be able to deepen their understanding of the expanding future of psychedelic plant medicines in ways that are equitable, safe, and just, and ways we can give back to and honor the cultures from which these practices stem.
Course cost: $1,100
Click here for a 20% bundle discount + 1-year complimentary Chacruna Community Leader membership by purchasing our other courses and workshop: "Diversity, Culture and Social Justice in Psychedelics", "The Science of Psychedelic Healing" and "Reducing the Impact of Bias on Therapy, Education & Training"
Total duration: 32hours
CE Credits available for $560 extra
Learning Objectives
At the end of the program, participants will be better able to:
To understands the conservation status of commonly used naturally occurring psychedelics.
To analyse how sustainable are current practices of sourcing them and to discuss pathways for sustainability of access
To learn about the efforts which are underway for preserving these medicines by Indigenous people and local communities and discuss how we can best support these efforts
Discuss how historical attitudes about sacred plants has influenced our contemporary understanding of psychedelics
Critique how different interpretations of plant knowledge have reinforced power dynamics
Analyze how colonialism influenced practices and vocabularies of sacred plant knowledge
Apply anthropological concepts to better understand ritualized practices with psilocybin mushrooms.
Deconstruct certain problematic tropes of Mazatec curanderos and ceremony.
Discuss more critically the effect of psychedelic tourism on Indigenous communities.
Describe in details the different forms of contemporary iboga and ibogaine use.
Compare different forms of ibogaine treatment and iboga rituals regarding their management of health risks.
Explain the traditional and contemporary uses of iboga and ibogaine and their potential effects on the participants.
Understand the neocolonial aspects of philanthropy, Nagoya Protocol, access-and-benefit sharing, and their relevance to reciprocity and psychedelic plant medicines for local communities, practitioners, patients, business leaders, investors, conservationists and researchers.
Discuss how unequal exchange affects Indigenous territories connected to international trade, and the cultural-economic factors alienating the psychedelic community from the human and environmental costs of the status quo.
Students will appreciate how a variety of cultural biases around sexuality may be both consciously and unconsciously incorporated into ayahuasca ritual traditions and assumptions.
Students will be able to see how their own assumptions about gender and sexuality may play out in their conceptions about the ayahuasca plant, the dietas practiced around it, and its shamans and ritual facilitators.
Students will become aware of the prevalence of sexual abuse within ayahuasca-using traditions and the steps being taken to mitigate this phenomenon, as well as the reasons it exists.
If you have general questions about this course, please contact Alejandra, who is Chacruna's Project Coordinator, at alejandra@chacruna.net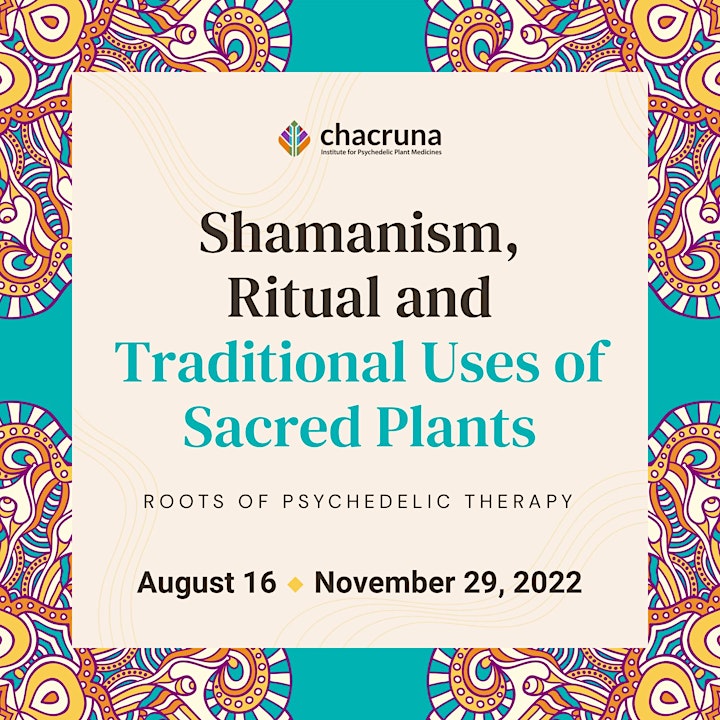 CE CREDITS AVAILABLE:
• CE credits for psychologists are provided by the Spiritual Competency Academy (SCA) which is co-sponsoring this program. The Spiritual Competency Academy is approved by the American Psychological Association to sponsor continuing education for psychologists. Spiritual Competency Academy maintains responsibility for this program and its content.
• The California Board of Behavioral Sciences accepts CE credits for LCSW, LPCC, LEP, and LMFT license renewal for programs offered by approved sponsors of CE by the American Psychological Association.
• LCSW, LPCC, LEP, and LMFTs, and other mental health professionals from states other than California need to check with their state licensing board as to whether or not they accept programs offered by approved sponsors of CE by the American Psychological Association.
• SCA is approved by the California Board of Registered Nursing (BRN Provider CEP16887) for licensed nurses in California. RNs must retain their certificate of attendance for 4 years after the course concludes.
•For questions about receiving your Certificate of Attendance, contact alejandra@chacruna.net.
For questions about CE, contact Spiritual Competency Academy at info@spiritualcompetencyacademy.com.